Extended Senses
On Sunday June 1, FIBER and Flemish Arts Centre de Brakke Grond will present the seventh edition of Coded Matter(s), titled Extended Senses.
Intelligent technology grows around us and towards us as an extension of the body, both visible and invisible. The computer has migrated from lap to pocket. A wave of networked watches, glasses and implants is launched at technology trade shows and through sensors we are able to explore our environment in new ways. What are the possibilities of these new developments? And what are the dangers?
During Extended Senses, artist talks, installations and demonstrations will let you see and experience the possibilities and dangers of these developments. Listen to plant conversations, see the data created by your body or play a game with your own muscles. Artists, designers and scientists show how human senses are being expanded or applied differently, how previously invisible processes of man and nature can be made visible, useful and even aesthetic.
The programme starts in the afternoon and goes on into the evening, supplemented with thematic films, music and food, spread out across the various inside and outside spaces of De Brakke Grond.
Be sure to jot down Sunday June 1 2014 on your calendar, subscribe to our newsletter and click attend on Facebook to receive all the latest updates.
Coded Matter(s) is supported by the Creative Industries Fund NL
Ticket Info
Date:

01 June 2014

Location:
De Brakke Grond
City:

Amsterdam

Time:

15:00 - 23:00

Doors:

14:30

Price:

Door € 16 / Online € 14 / CJP € 12 (only valid upon showing CJP card)
Latest News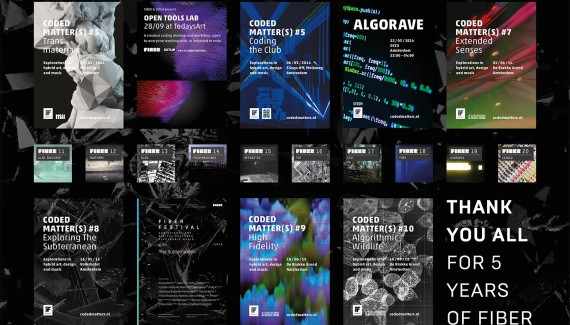 FIBER turns 5! Hold on… It's already 5 years ago that we set out to start an event where audiovisual …
Programme: Talks / Performances
Sources, Code & Knowledge