Open Tools Lab at TodaysArt
Creative coding meetup and workshop
Are you interested in sharing code, digital tools and your knowledge with other creators? Would you like to brainstorm about new ideas, or to present a (coding) project or prototype? Bring your computer and join us at the Open Tools Lab at TodaysArt on Saturday 28th of September.
FIBER and SETUP are organizing the Open Tools meet-up and workshop to complement the Creative Coding Symposium, which is organized by DOTS & TodaysArt in the afternoon. The lab is a meeting place, open work session and presentation opportunity for all creators and visitors of the DOTS symposium and TodaysArt festival. We invite everyone working with – or is simply interested in – code, to share their experiences, tricks and/or tools. The lab is an informal gathering; everyone can join or visit.
SETUP will give a workshop as a sneak preview of their upcoming 'Apps om in te lijsten' ('apps to frame') course for beginners. In this workshop coders and interested people (without experience) will be taught in one hour how to modify a Breakout game written in Processing into an interactive work of art that will be framed and shown on the wall. The workshop is based on Steph Thirion's "Gamemod". Participants will be guided by two experienced Processing coders. Apply for the workshop here.
This event is part of FIBER's Coded Matter(s) event series, which explores the impact of code and digital processes within the realms of art, design and music.
SETUP's 'Apps on in the lijsten' will be an introductory course about creative coding for everybody. They are looking for coders, art organisations and participants. More info can be found on their website.
Information
Date: Saturday 28/09/2013
Time: 12:30 – 15:30 (doors 12:00)
Workshop: 12:30 – 13:30 (+ break-out)
Location: TodaysArt Festival / Conference Room, first floor
Entry: Free for visitors of the Symposium & the TodaysArt exhibition.
Tickets: symposium & exhibition € 10 More info about the symposium can be found here.
Coded Matter(s) is supported by the Creative Industries Fund NL
'Apps om in te lijsten' is supported by the Creative Industries Fund NL and 'Jij maakt het mee – The Cultural Participation Fund'.
Latest News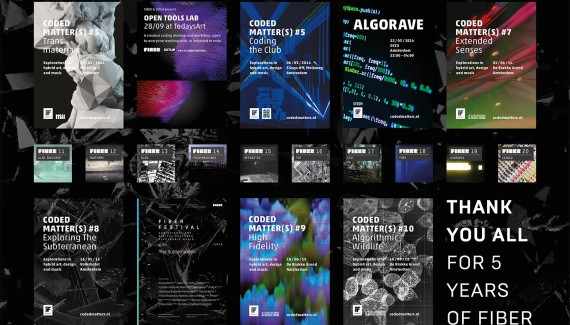 FIBER turns 5! Hold on… It's already 5 years ago that we set out to start an event where audiovisual …