Sound Hackers
Event 2: New expressions in sound and music
Software and the internet enabled people to produce and distribute music from their home computer. Nowadays the development of powerful mobile technology and accessible coding languages adds a whole range of possibilities to the production and performance of sound and music. The instruments that create and play sound are prepared with spatial, sensory and tangible interfaces. Musicians, sound artists and other sonic creatives expand the possibilities between physical materials and software by using light, projections, sensors, code and data as integral part of their work.
Sensors make it possible to develop next-level instruments, that tap into the unseen, unheard 'rhythms' of our networked environment, and play the soundtrack of the (near) future. On the one hand analog instruments are hacked and enriched with digital features. While 'hybrid instruments', on the other hand, are created by using open hardware and self-build parts made with digital fabrication methods.
In the second edition of Coded Matter(s): Sound Hackers we'll investigate the rising possibilities and new expressions in sound and music due to emerging technologies and coded cultures. Furthermore we'll look into the influence of autonomous processes, based on algorithms and data-streams as an artistic source. Coded Matter(s) also investigates the role of digital processes which enable the merging of virtual and analog instruments.
We invite everyone interested in sound and music to join our Sunday afternoon program at De Brakke Grond and be astonished by the 'sound hackers', audiovisual performances, a showcase and short talks presented by a wide variety of artists who will introduce and perform these 'hybrid instruments'.
Ticket Info
Date:

10 November 2013

Location:
De Brakke Grond
City:

Amsterdam

Time:

15:00 - 18:30

Doors:

14:30

Price:

Door € 14 / Online pre-sale € 12 / CJP € 10
Latest News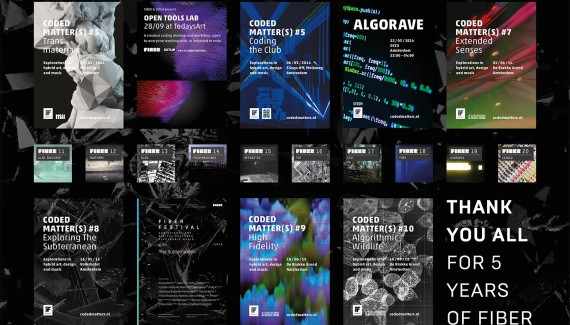 FIBER turns 5! Hold on… It's already 5 years ago that we set out to start an event where audiovisual …
Programme: Talks / Performances
Sources, Code & Knowledge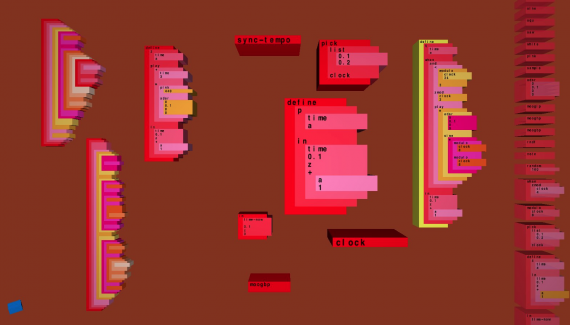 Algorave: coding & clubbing, surely not?
04/09/13
Events like Algorave highlight that by making more people creators through programming, we don't …
Website