Up next: the first Dutch AlgoRave!
As you may have already seen, the next Coded Matter(s) is already lined up and ready to go! This time we're going a slightly different route, as we're hosting an actual rave, together with STEIM.
What kind of rave? Nothing less than the first Algorave on Dutch soil! To those unfamiliar with the concept: Algorave brings the cerebral world of live coding and the dirty dancing of raves together to form kind of club night during which performers improvise their music live on stage by writing and re-writing code. It's a bit geeky, it's a bit experimental, but it's mostly a lot of fun and very interesting. Also, no generic sounds to be heard here! If you want to hear some truly new electronic music: look no further!
After its birth only three years ago, the Algorave scene has been popping up all over the world, spawning parties from Great Britain to Mexico, and has since been featured in popular media such as BoingBoing, Dazed Digital, Wired, Vice and even on the Dutch news programme NOS op 3.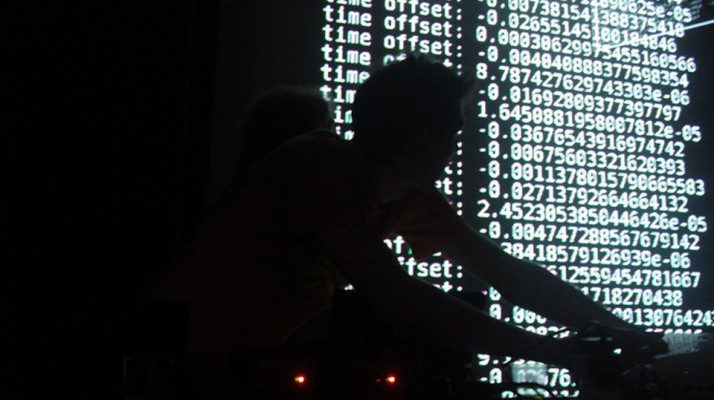 Alex McLean

To properly introduce this new movement on Dutch ground we're flying in Alex McLean, the founder of the scene himself, from the UK, along with some of the biggest current names in the Algorave scene: Alex McLean and Matthew Yee-King will be headlining as Canute, a live coding vs live drumming project, Luuma brings his own custom-made software and controllers, other names include Exoterrism (BE), Shelly Knotts (UK) and The Void Pointers (NL).

Workshops & Mini Symposium
The Algorave programme is supplemented by two workshops – one for beginners on Friday and an advanced one on Saturday – in which people can learn to code for Algoraves, and a mini-symposium with keynotes and a performance on Sunday.

Introduction to live coding in SuperCollider (Friday 21 March)
This workshop is aimed at those who are want to get into coding sounds, but never knew how to take the step. Perhaps you have been coding in languages such as Max/MSP or PureData and want to learn SuperCollider as well? Or you might want to start learning from scratch without any previous experience with coding?
This is your chance! Within a few hours The Void Pointers will teach you some basic SuperCollider coding skills and enable you to create your own sounds.
Check out the workshop page for more information.
Advanced SuperCollider & Live Instruments (Saturday 22 March)
This workshop is for those who are interested in combining code with live instruments. Different approaches will be discussed. The topics of effects, live sampling, onset detection, beat detection and markov chains will be covered, among other things.
For more information, have a look at the workshop page.
Mini-Symposium (Sunday 23 March)
The day after the event a small symposium will take place during which two speakers and a performer will reflect on the phenomena of 'live coding' and 'algorave' in today's cultural landscape.
Alex McLean and Marcel Wierckx have both been active in the field of live coding for several years now. For some reason though, the practice of live coding seems draw a lot of attention lately. Through two keynote presentations, and a performance by Marije Baalman, context to these developments will be provided.
Tickets for the symposium are sold separately from the Algorave party.
Pre-sale for the Algorave has already started, and the workshops are starting to fill up as well. Head over to Tickets to get yours and we'll see you next week!