Makers, coders and hackers; explore the 4DSOUND system during ADE Sound Academy
That time of the year is almost here: the Amsterdam Dance Event. Among hundreds of parties, showcases, meetings and lectures there's one fairly unique programme that you should not miss: the 4DSOUND ADE Sound Academy.
The 4DSOUND system will take over the Compagnietheater, a former Lutheran church built in 1793, and located in the very heart of Amsterdam. Within ADE Sound Academy, they will focus on the presentation and development of inspiring new settings in music, technology, and art. A series of separate public panels and workshops will be aimed at creating discussion and interaction around spatial sound and immersive environments (scroll down).
Earlier this year, we had the opportunity to work together with 4DSOUND and Peter Kirn (CDM) at our event Coded Matter(s): Coding the Club. Now we're honoured to share this ADE programme with you and participate within the Spatial Sound Hack Lab on Sunday 19/10/2014.
Central to the 5-day programme is the Spatial Sound Hack Lab – hosted by 4DSOUND, CDM, Ableton, and Liine. Makers, coders and hackers – alongside internationally established artists – will be invited to explore the 4DSOUND system and develop their own spatial sound tools in a concentrated and intimate workshop setting. For this 25 participants will be selected to take part in the program, culminating in new and exciting experiments in sound, music and performance. You can apply HERE and information about the open call can be found at Create Digital Music and HERE.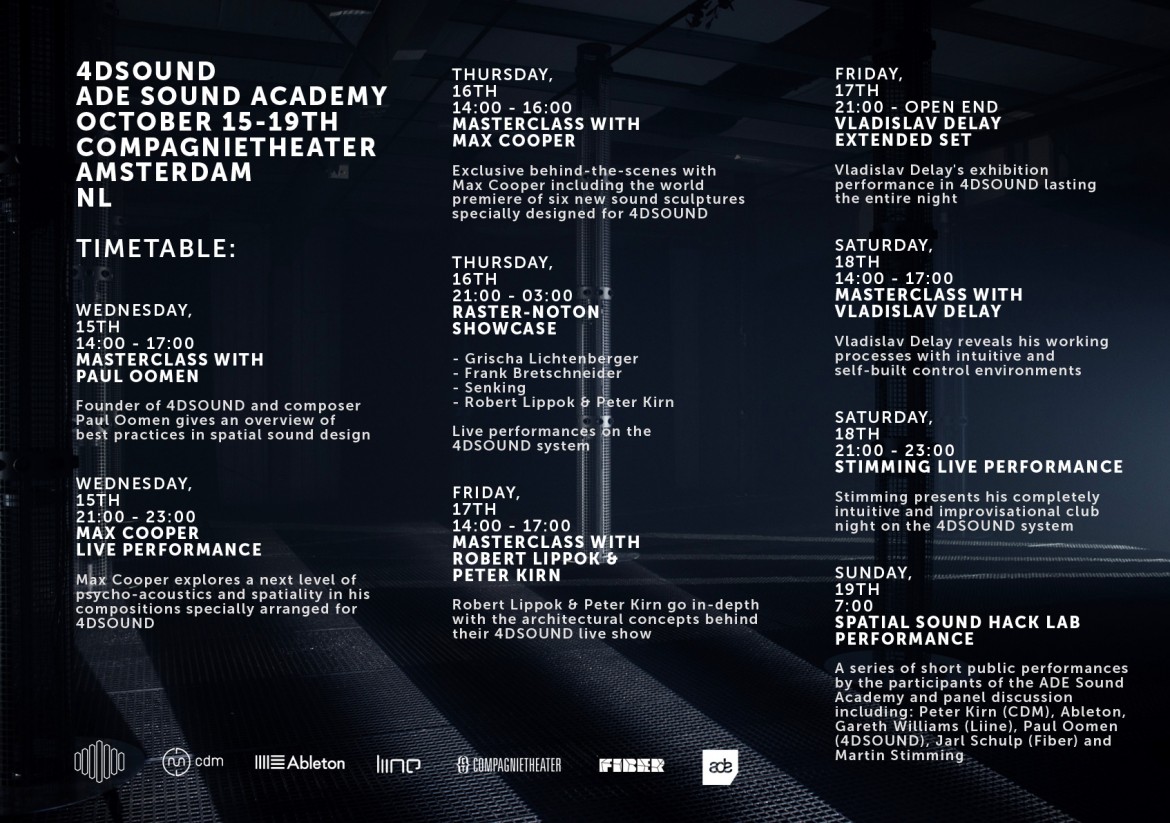 4DSOUND ADE ACADEMY PROGRAMME
Wednesday programme
On Wednesday, October 15th, 4DSOUND commence with a special masterclass from founder and experienced composer Paul Oomen, who will introduce the 4DSOUND system and its various methods of control. For this masterclass, Oomen will explore best practices in spatial sound design and discuss in-depth some of the most interesting examples from the 4DSOUND repertoire.
Also on Wednesday evening, the programme kicks off with the highly acclaimed live performance by long-time 4DSOUND collaborator Max Cooper. Max Cooper explores notions of psychoacoustics and spatiality in his compositions – his critically lauded album Human this year, and more than 60 musical and 24 video works before that, many of which are inspired by different scientific and mathematical concepts. The work for this show will be specially re-arranged in 4DSOUND.
The following day, Cooper will give an exclusive masterclass in the afternoon, including the world premiere of six new sound sculptures specially designed for 4DSOUND. In a humorous, abrasive or thought-provoking way, each of the sculptures highlights a specific aspect of spatiality. Cooper takes the participants behind the scenes with a detailed breakdown of his musical concepts and strategies applied in producing the sound sculptures.
Facebook events Wednesday:
Masterclass Paul Oomen
Max Cooper Live Performance
Thursday programme
On Thursday night, October 16th, they'll take things a step further and deliver a unique and challenging programme with acts from celebrated experimental imprint Raster-Noton. The sequence of Raster-Noton showcases on the 4DSOUND system will begin with a collaboration between well-established Berlin-based visual artist and composer Robert Lippok – one third of electronic post-rock trio To Rococo Rot – and Create Digital Music 's founder, audio-visual artist and technologist Peter Kirn. Lippok and Kirn produce a live structure in sound, space, and rhythm, composing on the basis of designed spaces by architects Arno Brandlhuber, Matteo Ferroni, and Jason Danziger commissioned specifically for this project. Those designs are reproduced as a new virtual architecture of sound, in stroboscopic beats and shimmering sonic surfaces. After, Jens Massel aka Senking – who recently debuted his 4DSOUND performance at the Berlin Atonal festival – will premiere his live set in Amsterdam. He is followed by Grischa Lichtenberger – a multidisciplinary experimental artist, known for his involvement in a variety of arts such as writing, graphics, installations, video and music. Closing the night, musician, composer visual artist and Raster-Noton co-founder Frank Bretschneider, renowned for his precise sound placement and complex interwoven rhythmic structures, will present his completely new live performance designed for the 4DSOUND system.
On Friday afternoon, the Berlin-based duo Lippok & Kirn will devote a masterclass to exploring connections between architecture and sound. They will discuss their own means of translating their architectural collaborations into spatial music, as well as historical connections between the disciplines and where architecture and sound might go in the future.
Facebook events Thursday:
2h Exclusive Masterclass with Max Cooper
Raster-Noton Showcase
Friday programme
On Friday night, October 17th, Finland's Sasu Ripatti aka Vladislav Delay takes over the stage. Ripatti is a talented musician and sound designer, who reinvents himself regularly, and is constantly exploring new mediums and ways to express his musical vision. He has been experimenting with sonic constructions full of textural and compositional details, shaping his sounds into minimalistic and dynamic electronica. Starting at 9pm, Ripatti presents an extended live performance that will endure until the early hours. The audience is invited to enter the 4DSOUND system as an open exhibition space – an environment that Rippati will continuously excite and trigger in a most intuitive and impulsive way.
On Saturday afternoon, Ripatti will deliver a masterclass on his working processes with intuitive and self-built control environments. This masterclass leads into a Spatial Sound Hack Lab participants meeting, that will include further technical introductions to the 4DSOUND system and working with different control formats such as Ableton Live, Max for Live and Lemur.
Facebook events:
Masterclass with Robert Lippok & Peter Kirn
Vladislav Delay extended live performance
Saturday programme
On Saturday night, October 18th, the programme culminates in a live performance by Martin Stimming. His productions are filled with a multitude of his own unique, charismatic field recordings and rhythmic bricks, demonstrating a sophisticated yet accessible sound, rich in detail. In November 2013, Stimming's orchestral piece 'November Morning' was premiered on the 4DSOUND system, and performed live by the Rotterdam Philharmonic Orchestra, as part of the Blown Away festival. Earlier this year, Stimming returned to the 4DSOUND studio to develop a new improvisational spatial sound setup. His 4DSOUND performance is fully analogue, all live and completely intuitive – a spontaneous environment that will move the audience's mind and feet.
Facebook events:
Stimming live performance
Sunday programme

Sunday, October 19th participants of the Spatial Sound Hack Lab will be working on the system throughout the day. Then, at 19:00, we will see what they've accomplished, with a public presentation of a series of short demo/performances. The presentation will be followed by a final panel evaluating the ADE Sound Academy, and discussing diverse aspects of spatial sound production and immersive sonic environments. The panel will feature the following speakers, with further names to be announced: Peter Kirn (CDM), Jarl Schulp (FIBER), Gareth Williams (Liine), Paul Oomen (4DSOUND) and Martin Stimming – who will present the self-designed hardware controllers that drive his 4DSOUND live performance.
Facebook events:
Spatial Sound Hack Lab Performances
TICKETS
Tickets for all events can be purchased online here.
More info can be found on the 4DSOUND Facebook
To learn more about the system, check this article by Peter Kirn (CDM)
OPEN CALL FOR PARTICIPANTS

Spatial Sound Hack Lab
10h Saturday 18 October – 21h Sunday 19 October
Hosted by CDM (createdigitalmusic.com), Ableton, Liine, and FIBER at Amsterdam Dance Event (ADE)
What's possible when the experience of sound can happen in more dimensions? We invite artists and hackers to explore the 4DSOUND system using a variety of tools of their own choice, culminating in new experiments in sound, music, and performance. To apply, fill out the entry form by 23:59, Sunday 14 September, and let us know a little bit about your work and skill set and what you hope to accomplish. We will select a group that we think can collaborate well on the system and that represents a variety of interests.
APPLY HERE | more info at Create Digital Music

See you at the 4DSOUND ADE Sound Academy!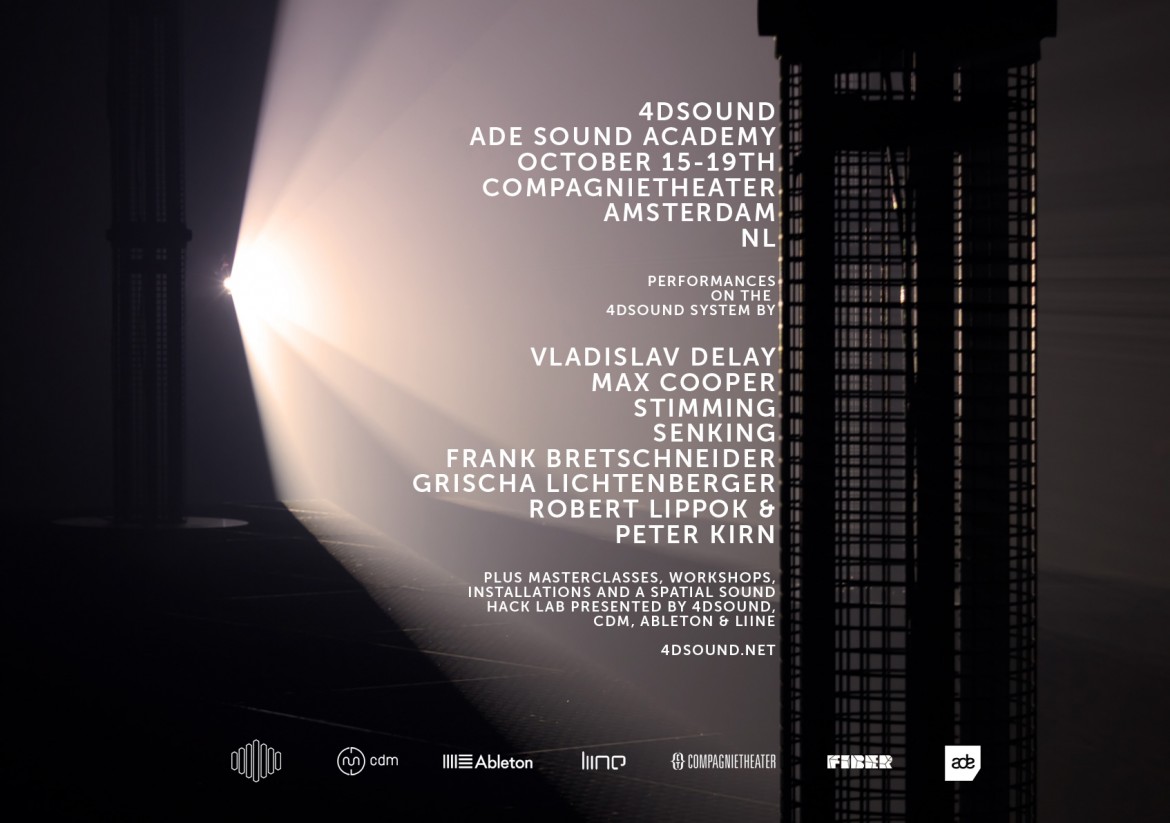 Top image: Florence To